It's an exciting season for brands as they begin to unveil their holiday promotions. In fact, if you step into a retail store, you'll be greeted by a wide array of holiday-themed products. This is also the time when companies should begin contemplating how to extend warm holiday wishes to their customers and express gratitude for their year-long support.
Whimsical holiday cards remain a timeless favourite for both businesses and consumers, evoking a sense of playfulness and magic that perfectly complements the holiday spirit. They also provide a personal and thoughtful connection with the recipient.
Throughout the years, we've had the privilege of creating incredible holiday cards for our clients, facilitating meaningful connections with their target audience. Here are a few examples of holiday cards, including those crafted by Information Packaging and other companies, that have truly pushed the envelope and the boundaries of creativity.
Liebherr Group Pop Up Holiday Gift Box Card
The Liebherr Group understands that the holiday season is a time for "pushing the envelope" and going above and beyond. This is precisely why they selected a remarkable holiday card gift box to extend warm wishes to their valued customers. The box, initially shipped flat, ingeniously unfolds to reveal an array of intricately designed, holiday-inspired die-cuts at its center. Liebherr leveraged one end of the gift box to convey their heartfelt holiday message to their cherished customers. See more images of the Liebherr Holiday Card.
GLG Communications Spinner Christmas Card
GLG Communications chose our spinner design as their holiday card last year. The card featured a captivating multi-layered die-cut star at its center that twirls when opened, while the back of the card featured an image of multiple champagne glasses raising a toast to the holiday season and the upcoming new year. This piece was also the recipient of the esteemed RX Award in the "best postcard mailer, 3-D mailer, dimensional mailer, premiums" category!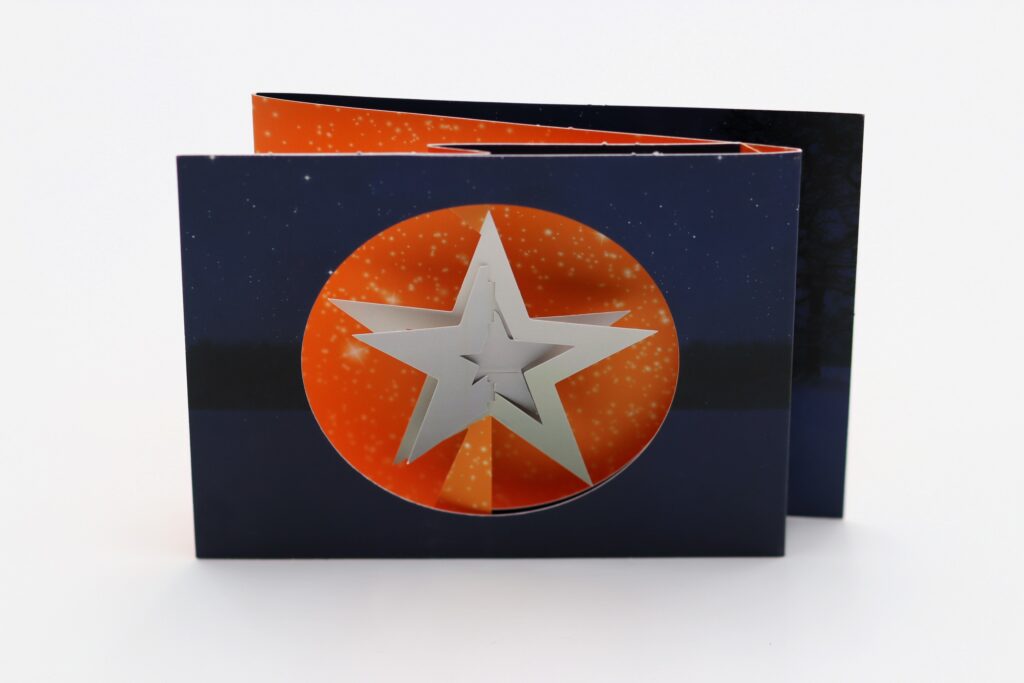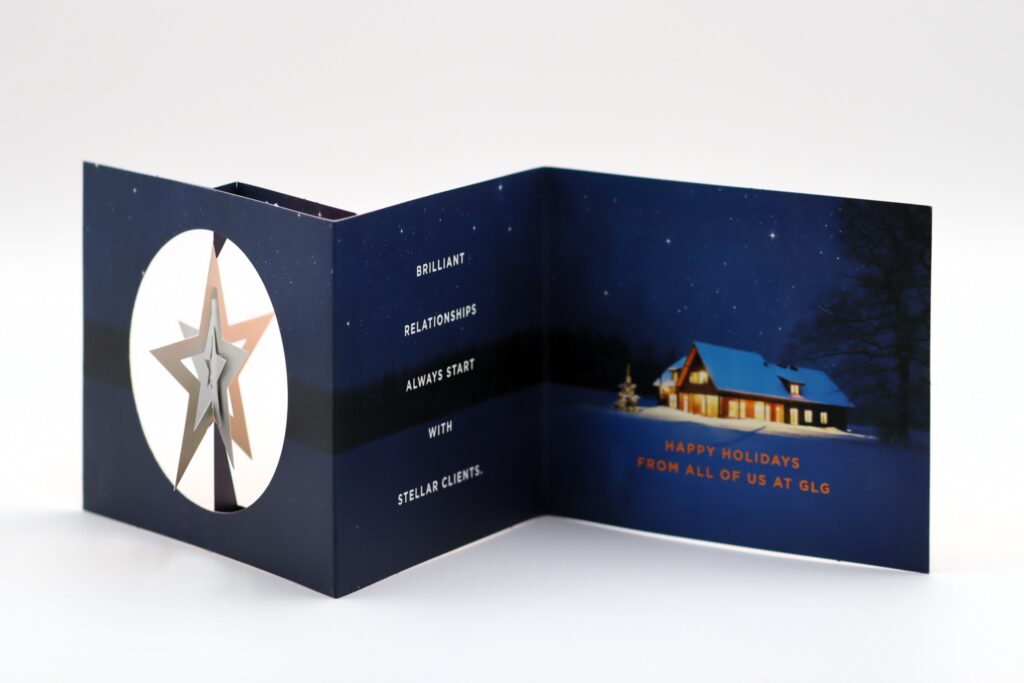 Astellas Spinning Tree Holiday Card
Astellas used our Spinning Tree holiday card design to wish employees a happy holiday season. The die-cut tree that appears on the cover of the card automatically spins and dimensionalizes when you open up the card. Once the card is opened up, there is another die-cut tree on the inside that spins simultaneously.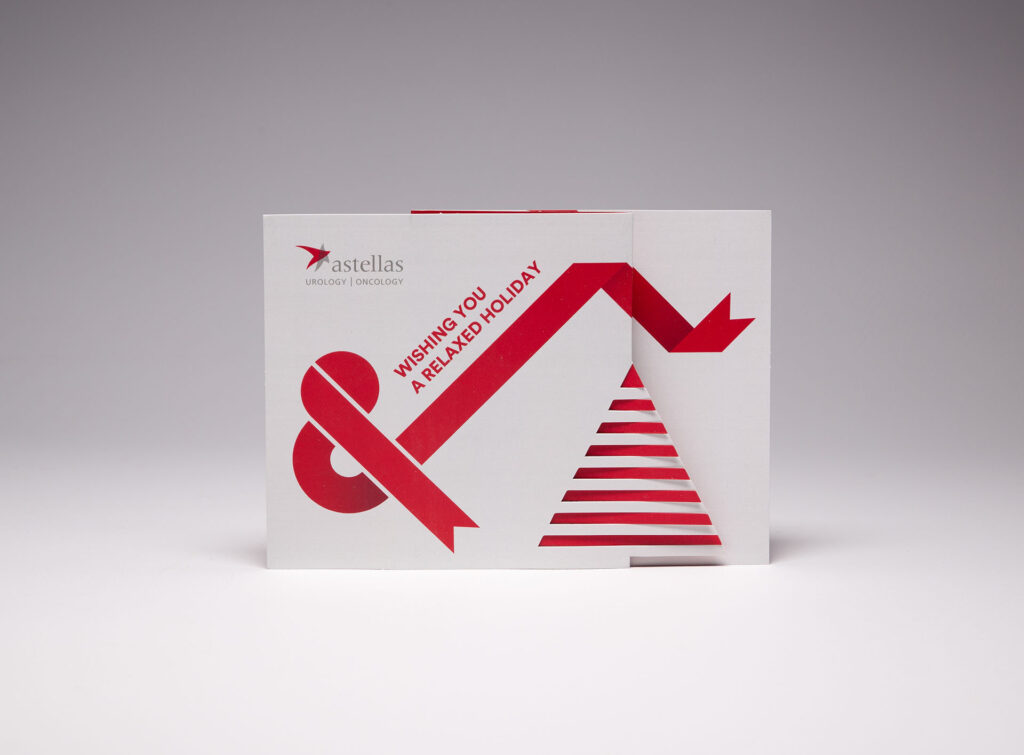 The Smithsonian Channel Holiday Card
The Smithsonian Channel selected one of our designs as their holiday card. The cover of the mailer features a die-cut window with a polar bear in a Santa hat peeking from inside. When you pull out the panel, the full polar bear image is revealed and when you unfold the panel the final message appears. See more images of the Smithsonian Holiday card.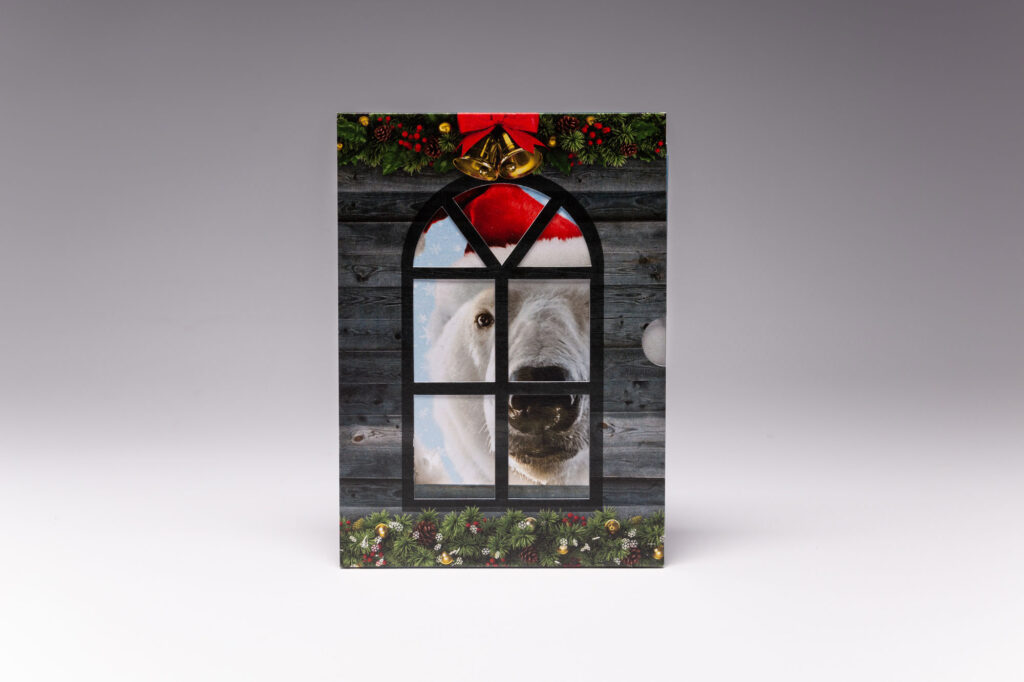 Iggesund Paperboard Holiday Card
Every year, Iggesund Paperboard selects a paper artist from around the world to design their annual holiday greeting card. It's become a tradition for Iggesund to challenge designers to surpass the previous year's holiday card, by highlighting the print possibilities available through Iggesund's paperboards Invercote and Incada. They chose our strategic US Partner, Structural Graphics, to create a unique design that utilized different printing techniques, including fine laser cut details. The design also needed to reflect Iggesund's theme "Shine a light on the forest". The theme is specific to the origin of Iggesund's flagship product, Invercote, as well as the important role that sustainable forestry and fibre-based products can play in mitigating climate change. Structural Graphics' design team created this design; a magical winter forest scene that comes to life in a dimensional shadowbox which shines a light on greater forest sustainability. They had the idea to illuminate the shadowbox from below. This was achieved by developing a light display which appears on one's mobile device, once the QR code on the bottom of the holiday card is scanned. The light show that displays within the shadow box mimics the magical illumination of the aurora borealis.
Information Packaging Box of Chocolates Perpetual Folder
We used our own Perpetual Folder design to wish customers and prospects a happy holiday season. The Perpetual Folder is popular for its ability to engage and surprise the recipient. With its multiple panels that turn in succession, it is the perfect design for telling your story or delivering your holiday message.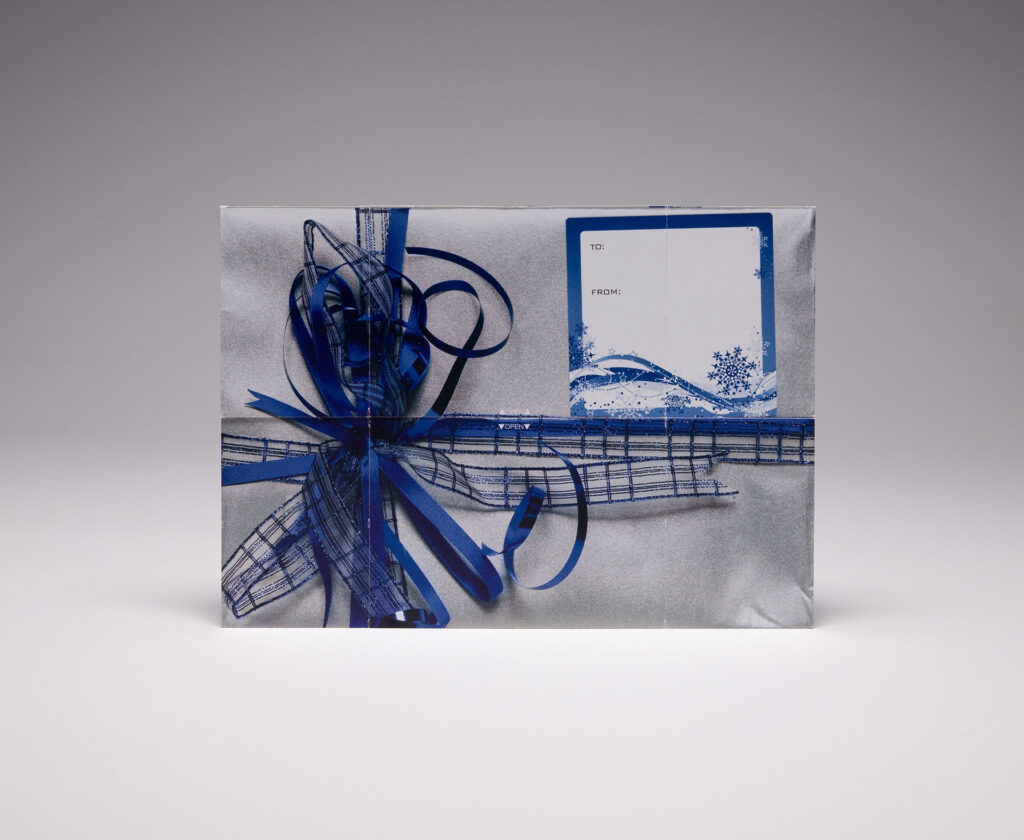 Extendo® Pop Up Cube Holiday Card
Our Extendo® Pop Up Cube is a great new addition to our line of dimensional holiday cards and a great new promotional product. Whether you choose to customize it with your holiday greeting or your promotional message, it is sure to grab attention. At first glance, this product seems to be our typical Extendo® design, where you pull the tab and one panel extends out of either side of the base. But here's where the fun comes in – just pull the tab, and unexpectedly a 3.25″ x 2.5″ x 2.5" pop up cube springs from the inside of the base right before your eyes. See a video of the Extendo® Holiday Card.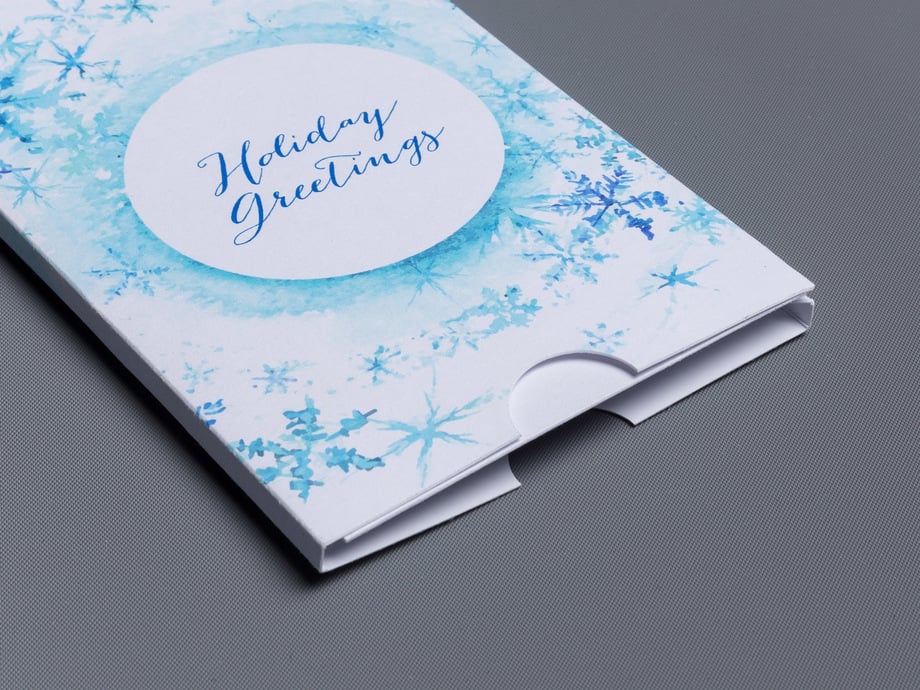 In Conclusion
Greeting cards are a wonderful way to engage with your customers while simultaneously boosting brand recognition. They also serve as an effective tool for adding a human touch to your company's image in the eyes of your customers. While email greetings are convenient, they might find their way into a recipient's spam folder or go unnoticed. If you're prepared to explore new possibilities and push the envelope this holiday season, get in touch with us to discuss your holiday card strategy.
corporate greeting cards, greeting cards, holiday cards