The Centre-Pop is one of our most versatile and creative designs. It can be used as an interactive mailer, display, desktop keeper or even a video in print presentation piece. It ships flat but pops up in the centre to reveal a display panel while the base forms to allow it to stand on its own. 
Brands have used it as a unique display piece, an invitation, a trade show handout, a premium and even to deliver a coupon – all with amazing results! Take a look at some examples:
Shell Hula Girl Centre-Pop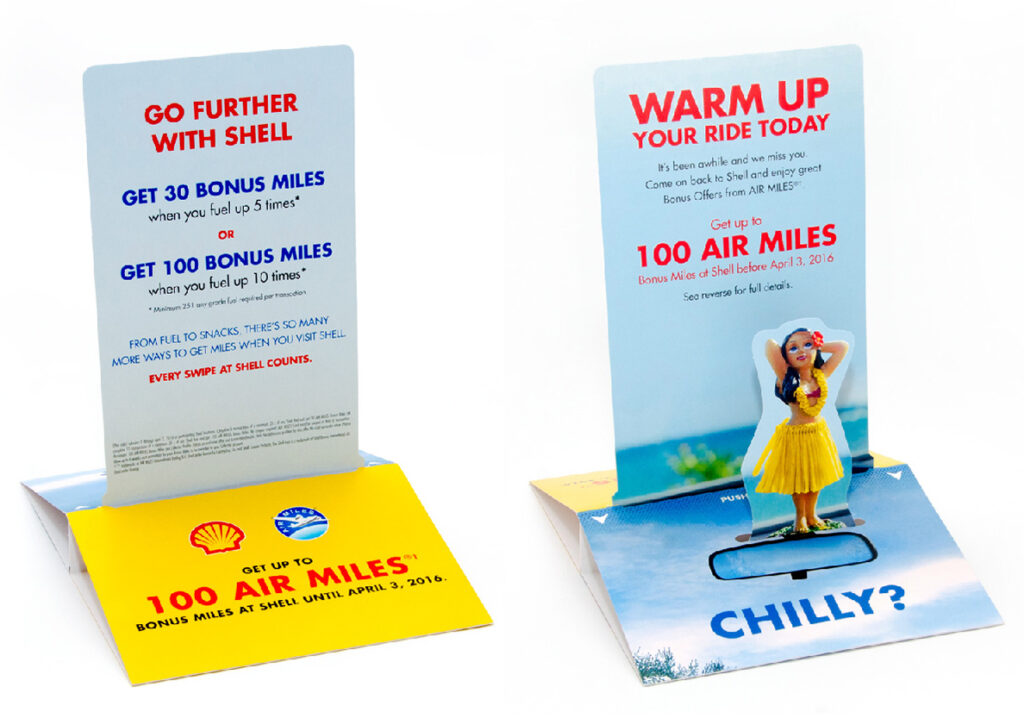 Shell's positive partnership with the AIR MILES® Brand helps encourage drivers to fuel up at their gas stations. Shell sought to leverage that partnership, and boost sales, with a playful, attention-grabbing campaign emphasizing the benefits of loyalty while tapping into the universal appeal of relaxing getaways. Using the Center-Pop design, they were able to gain attention and results, with 28% of recipients responding to the campaign. The direct mailing was followed up by an e-mail reminder, and participating customers were urged to track their progress toward rewards. This piece went on to win the prestigious "INCITE AWARD" at the CMA Awards. See a video of it here.
Sprinklr Centre-Pop Video Mailer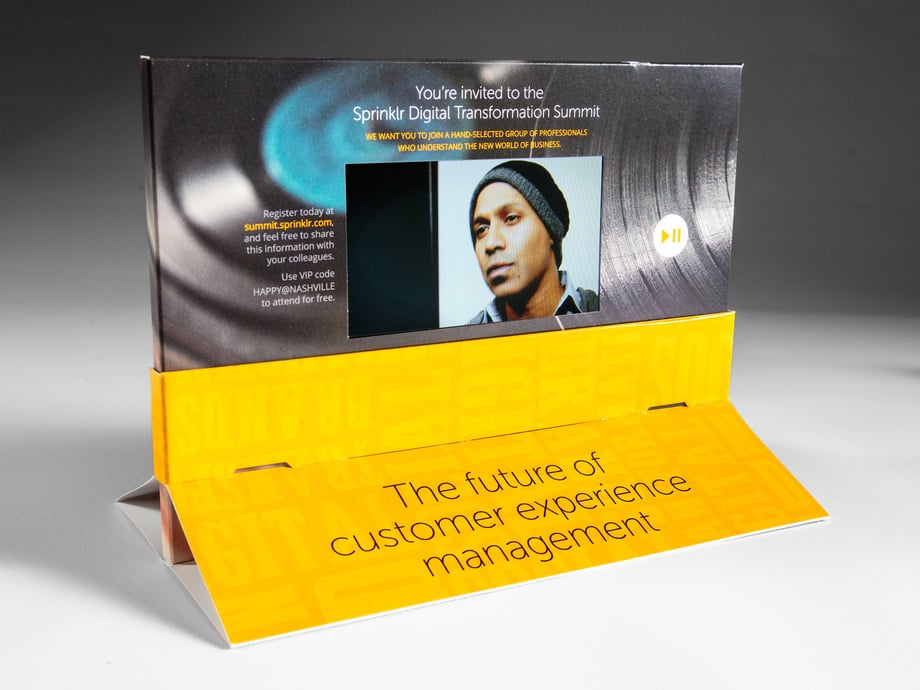 Social media management platform, Sprinklr, used our Centre-Pop Video Mailer design to deliver information about its products and services to Enterprise customers. The video screen inside the mailer immediately pops up front and center as you pull down on the outer panels, allowing the video screen to stand on its own while a video presentation of Sprinkr was displayed in the centre. See a video of it here.
Phygital Roadshow Centre-Pop Mailer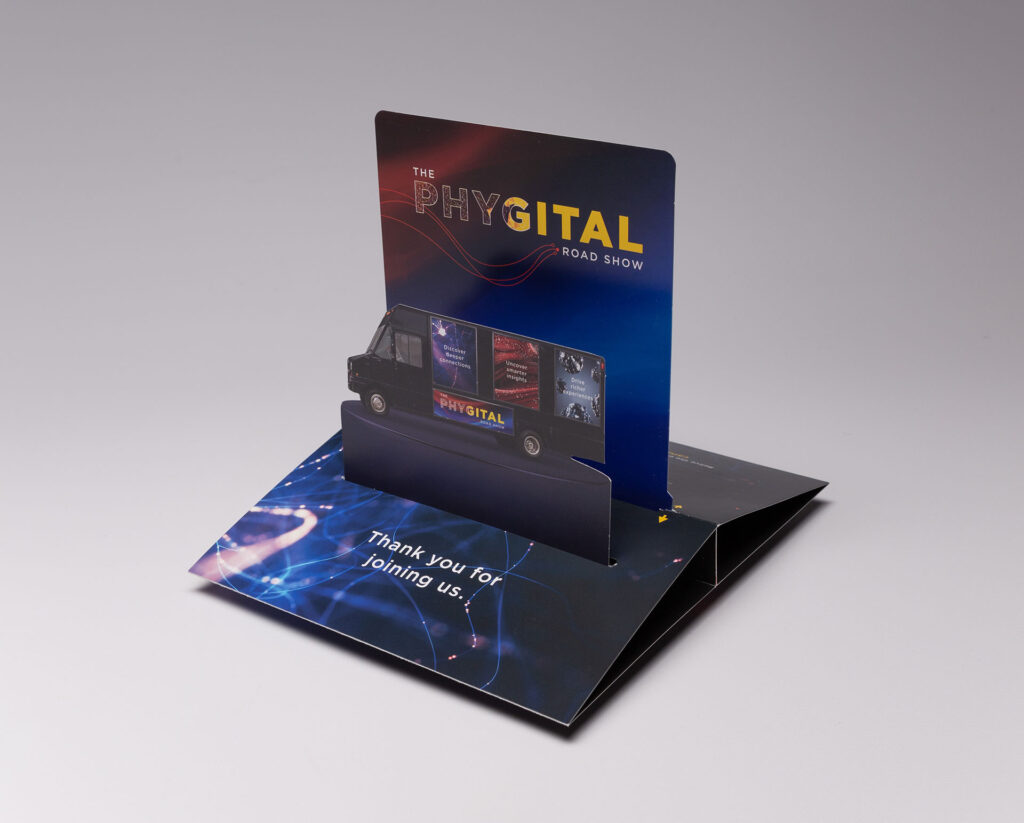 Canada Post used our Centre-Pop design to thank attendees or joining them at the Phygital Road show, an educational event that demonstrates how physical and digital work together to "drive breakthrough marketing." See more images and a video here.
Healthy Choice Centre-Pop Door Hanger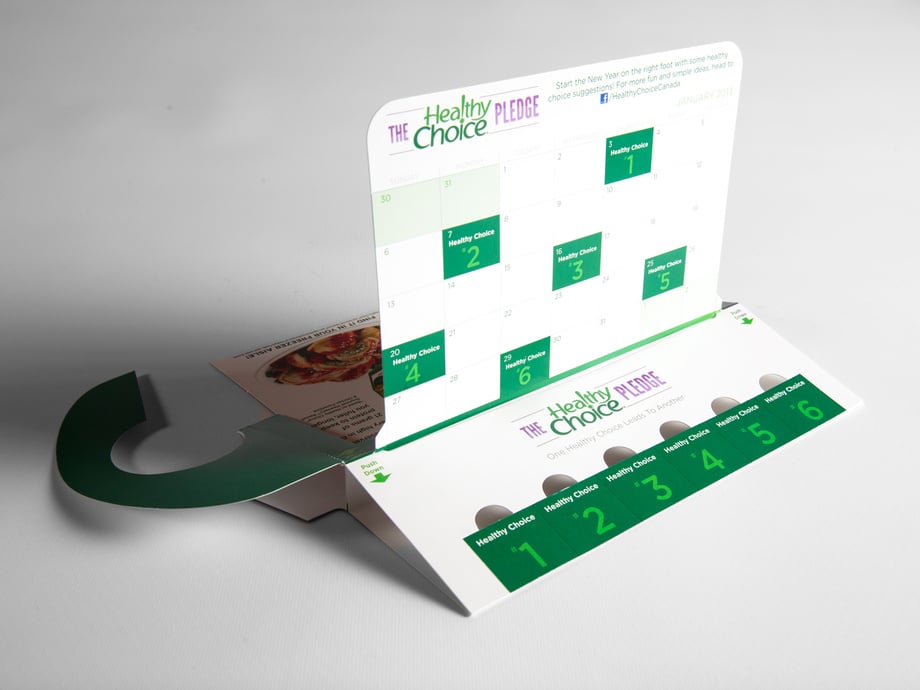 Healthy Choice used this Centre-Pop door hanger to drive recipients to Facebook to increase "likes" and to deliver 2 coupons. They chose this design because it was dynamic and likely entice customers to keep it on their counters. They also chose this design because of its presentation quality. One panel held the coupons and the other panel carried a calendar that corresponded with the "activities" that were popped open when instructed. The other side carried the call to action that instructed the consumer to go on Facebook and "like" the Healthy Choice Pledge. The carrier was designed with a "door hook" that was perforated to allow for removal after distribution. Best of all, the piece generated 136,000 Facebook Likes. 34% of the coupons were redeemed, compared to the average coupon redemption of 19%. See more images and a video here.
Conclusion
The Centre-Pop is perfect if you are looking to send something to your audience that they'll want to hold onto. Better yet, the Centre-Pop is one of our automated designs beneficial for quick turnaround projects not requiring any hand assembly. Contact us to get started putting your brand front and centre.
desktop keeper, direct mail, premium