No other industry has been affected by the pandemic and its lingering effects more than the trade show and events industry, but last week proved there is a light at the end of a very long tunnel. Thousands of attendees flocked to Computer Electronics Show (CES) in Las Vegas, one of the most (if not the most) influential tech shows in the world. Attendance surpassed what most experts were predicting, proving that trade shows and events are back in a BIG way. In September of 2022, the largest Salesforce event, Dreamforce, enjoyed a 40,000 person attendance, the largest trade event in San Francisco since the onset of the pandemic. The trade show future is bright once again, and here's why marketers will continue to exhibit and attend:
According to trade show industry trends, 82% of trade show attendees have buying authority
In general, a successful trade show has a return on investment of 5:1
The B2B trade show market value will reach 40 billion by 2023
31% of marketers agree that events are the single most effective marketing strategy (Aventri)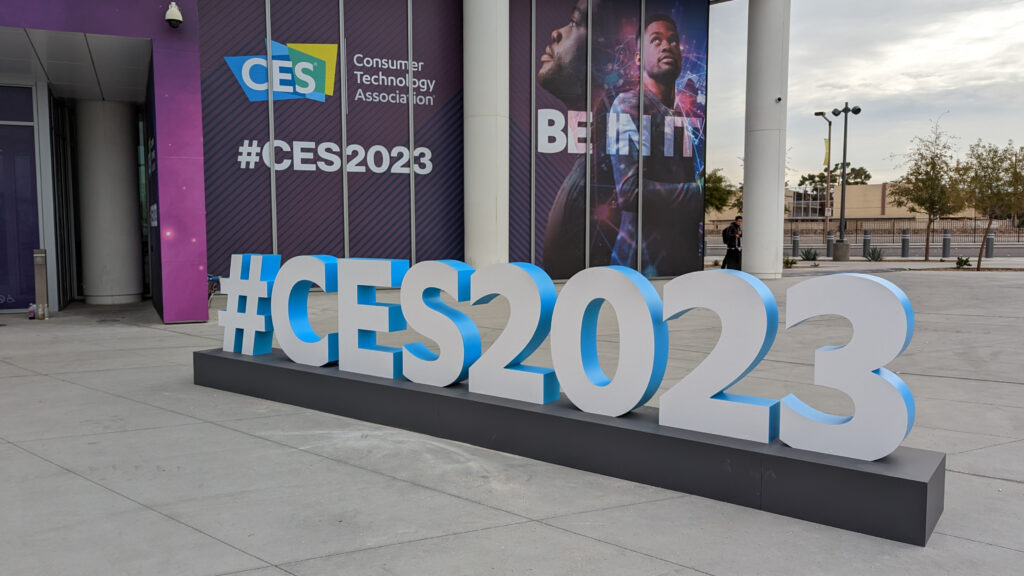 Businesses are thrilled to be back together at in-person events, and the tech world gathering this week at CES is a great example of the power of a community coming together to share innovations and network," said Adam Charles, executive vice president, agency and professional services, for Freeman, the show's general contractor. "As trade shows roared back post-pandemic, the power of the in-person experience was evident throughout CES. And new uses of event tech were, too."
Putting on a good show
Yay! They're back! Now what? Here are some of the elements we believe are crucial to putting on a good show:
A Knockout Exhibit
Putting your best trade show foot forward is key to a successful outcome, so how do you do that? The first thing that comes to mind is a knockout exhibit, and of course that is indeed a crucial element. A standout exhibit includes things like great signage, a welcoming flow, unique design elements and plenty of room for visitors to walk around and learn about your products and services.
Food Glorious Food
Then there's of course, food, beverages and mints! People love a good snack when they're perusing the trade show floor, so it's always a good idea to provide snacks. They will definitely attract an audience. All that talking and networking will make anyone parched, so providing water and mints are also always a good idea too.
The Right People
Having a knowledgeable staff on site is crucial to the visitor's overall trade show experience with your brand. Stock up your booth with members of your team that can speak fluently to the features and benefits of your products and/or services. Educated demos of your product by an informed member of your company will always leave a good impression. Also, prepare your staff ahead of time. Make sure you are all on the same page in terms of your brand's messaging and what you are offering.
Before the show
Having a fantastic trade show presence is only as good as the attendance it brings. Kind of like putting together a great party but not telling anyone about it. Weeks before your show, make sure you let the right people know about it! Emails are great for building awareness, but they can often get stuck in spam. Promoting your attendance at an upcoming trade show on social media is also extremely effective. However, we believe making a great first impression begins with some unconventional pre-show marketing and if you build excitement, they will come! Here are some examples:
Sunovion Pharmaceuticals Tradeshow Invitation
Sunovion Pharmaceuticals used the Automatic Changing Picture design to invite prospects to an upcoming tradeshow. The cover of the invitation featured a die-cut circle with tradeshow details on the inside. As you opened up the mailer, the image inside the circle automatically transformed to reveal an image of a young boy.
Rinco Trade Show Invitation
Rinco USA used this direct mailer to invite prospects to visit them at an upcoming tradeshow. The inside of the invitation featured a paper replica of a welding machine that immediately popped up front and center as you opened up the invite.
The MED Foundation Sound Chip Record Player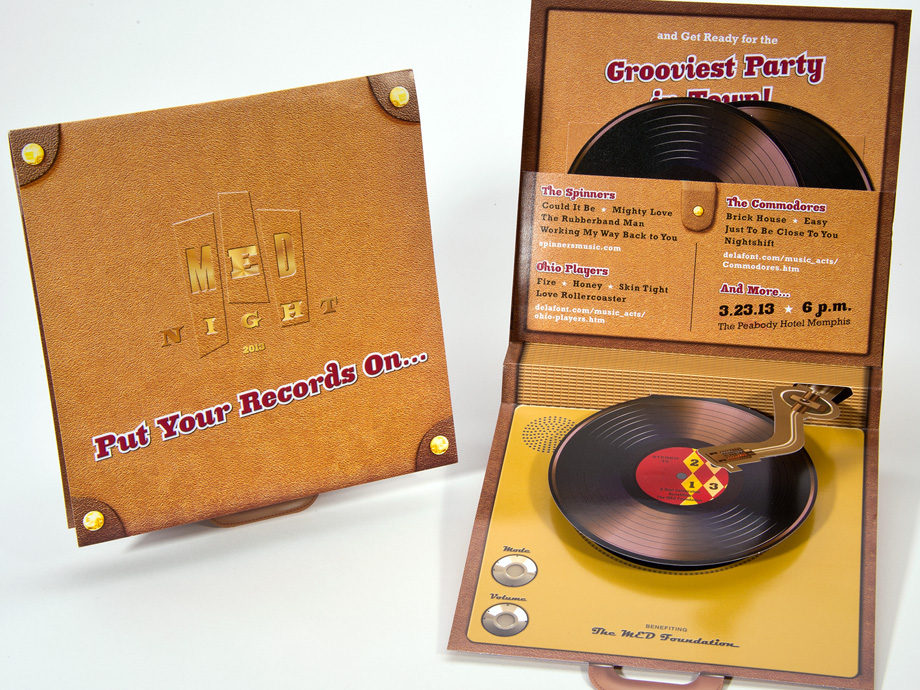 This invitation was used to promote the MED Foundation's largest fundraiser, MED Night. When you open up the mailer, a dimensional record player pops up as soul music plays in the background along with an announcement of the event. The soul music tied in perfectly with the event's soul theme.
Web Key Trade Show Invite
This web key folder promoted trade show visits. Inserting the web key into a usb port launched an information page along with promotions redeemable at the booth.
Reval Trade Show Handout with QR Code
Reval was looking to drive conference attendees to their booth to learn more about their latest offering. Reval participates in many industry events to provide education and speak on the latest trends in financial services. Their goal was to introduce their anticipated new all-in-one Software-as-a-Service and demonstrate its strengths to CFOs and treasurers at a trade show. Because of this hard-to-reach audience, Reval knew they needed something compelling enough to drive prospects to their booth at the trade show.
They chose the Extendo® design, in a box format. Pulling on the tab reveals two hidden panels that extend from the top and bottom of the handout. As this action takes place, new messaging is revealed in the window on the center panel. The top panel revealed a token and the call to action was for conference attendees to bring their token to Reval's booth for a chance to win 1 of 3 prizes. The back of the handout featured a QR code that launched a whitepaper about Reval's Single Solution. Not only was the format itself engaging, but it contained a compelling offer for attendees, further capturing their attention.
Reval had over 1,200 visits to their booth as a result of about 6,500 conference attendees. They shared that the handout was a huge success and attendees couldn't stop talking about what a great idea the promo was!
Colgate Trade Show Invitation
Colgate used the Auto Slide Sleeve Mailer to educate dentists on how Colgate brings together "oral care science and patient compliance" and to invite them to visit their booth at an upcoming tradeshow. As you pull on the tab, the left-hand side of the mailer slides over while the image transforms. The inside featured a special offer to physicians attending the tradeshow.
During the show
How do you get visitors to remember you after the curtains go down? Having informational literature is key, but let's be honest, most of the flyers and business cards people end up leaving with get tossed. What you give your visitors will have to be compelling enough for them to want to hold on to and reference long after the show ends. Here's one example.
Walterscheid Premium Kit
Walterscheid, a global player in the manufacturing and sale of driveline technology knows how to deliver a nice premium. They used this kit to announce their new Ultra Plus system as a tradeshow handout as well as a mailer. The inside of this kit featured a staged pop up of the new product and a well that pulled out and locked to reveal a pair of branded work gloves.
After the show
You put on a great show, but what happens at the conclusion of the show is just as important. Follow up. Follow up. Follow up. Most importantly be unconventional and stand out with how you follow up. Here's how Canada Post aced their follow up.
Phygital Road Show Centre Pop Mailer
Canada Post used this Centre Pop mailer to thank attendees or joining them at the Phygital Road show, an educational event that demonstrates how physical and digital work together to "drive breakthrough marketing." The mailer shipped flat but immediately pops up when you press down on the panels. This was a great desktop keeper and reminder of their event.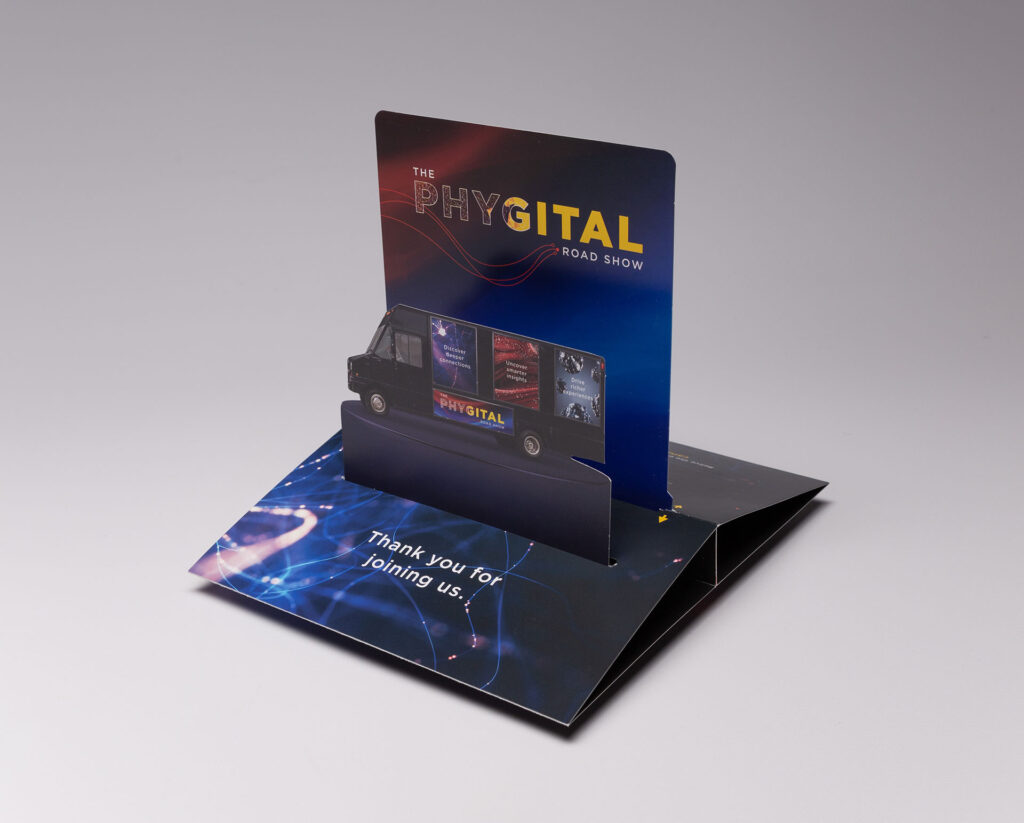 In conclusion
As with any marketing, we believe a holistic marketing approach should be taken when it comes to trade shows and events. Making an impact before, during and after is imperative to the overall success of your trade show strategy. Data predictions show a recovery for trade shows with almost all markets reaching two-thirds of 2019 revenue by the first half of 2023. Covid allowed us to rethink how we meet and interact, but we believe there is no substitute to the power of in-person and person-to-person meetings.
If you'd like to maximize your company's presence at your next big event, we are here to help! Contact us to chat about your next event.
direct mail, event marketing, events, trade show handouts, trade show marketing, trade shows, tradeshow, tradeshows