With everyone eager to return to normalcy, brands are ready to go all out this holiday season with their marketing and how they connect with consumers.
It's never too early to plan out your holiday marketing strategy. Start thinking about how you will keep your brand and products top-of-mind during the busy holiday season and how you can deliver that special holiday promotion to your consumers.
Consider print. With so many messages and promotions competing with yours, direct mail is a highly effective way to stand out amidst the holiday marketing clutter. Here are some examples of how you can use direct mail as part of your overall holiday marketing strategy.
Send a Coupon
Coupons have been around forever. There's a reason for that. Consumers love a good deal and coupons almost feel like a gift, especially when they are presented in a special way. Make sure your coupon stands out and is something consumers want to hold on to. Take a look at this example for Healthy Choice. They used this Centre-Pop door hanger to drive recipients to Facebook to increase "likes" and to deliver 2 coupons. They chose this design because it was dynamic and likely entice customers to keep it on their counters. They also chose this design because of its presentation quality. One panel held the coupons and the other panel carried a calendar that corresponded with the "activities" that were popped open when instructed. The other side carried the call to action that instructed the consumer to go on Facebook and "like" the Healthy Choice Pledge. The carrier was designed with a "door hook" that was perforated to allow for removal after distribution. Best of all, the piece generated 136,000 Facebook Likes. 34% of the coupons were redeemed, compared to the average coupon redemption of 19%!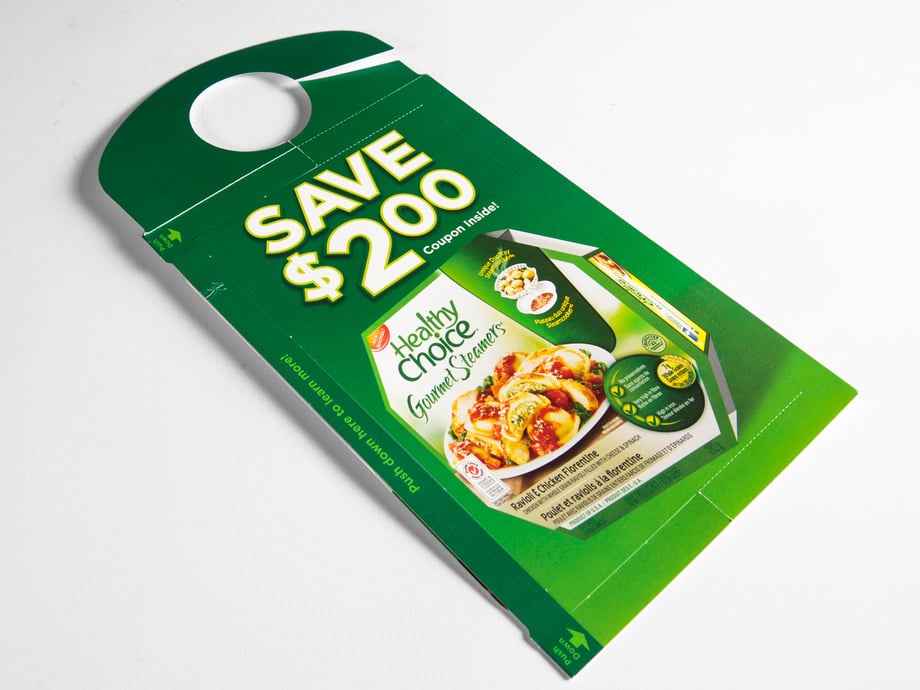 Deliver a Special Offer
The holidays are the season for giving and the perfect time to present a special offer to new and existing customers. Some examples:
Telus used this mailer to deliver a special introductory offer to prospective customers. The outside of the mailer was designed to mimic a popcorn box which was in-line with the Special Netflix offer. When you pull out the top of the self-mailer, it expands and locks in place to reveal the special offer on one side and popcorn imagery on the other. This design can be used with or without a cover window and is an excellent medium to deliver a perf-off coupon. As another one of our automatable designs, it delivers quick production turnaround and great value on larger volume projects.
Oracle used direct mail to deliver a special promotion. When you pull each of the panels out in opposing directions, the panels lock in place and an additional panel is revealed in the center with a unique URL recipients could visit to claim a special gift.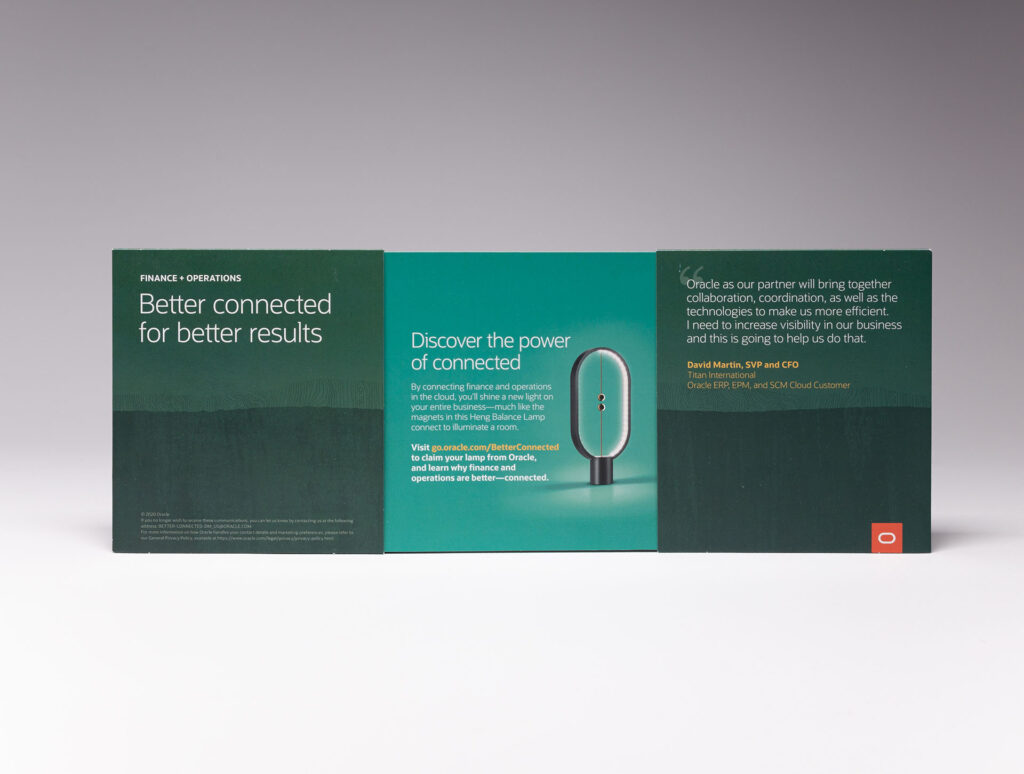 PC Express used direct mail to deliver this special offer. The die cut image featured on the cover glides across the mailer and locks into place while the offer is revealed on the panel as you pull it out.
Promote a Contest
Contests and giveaways are a great way to get consumers to engage with your brand and the holidays are the perfect time of year to get people talking about what you have to offer.
Dow AgroSciences used this creative pop-up mailer to promote their Go4Arylex giveaway. The mailer shipped flat, but when you open it up, the inside pops up to display an image of a John Deere product, complete with die-cut wheels. The inside of the envelope sleeve featured imagery and information on how to enter the giveaway.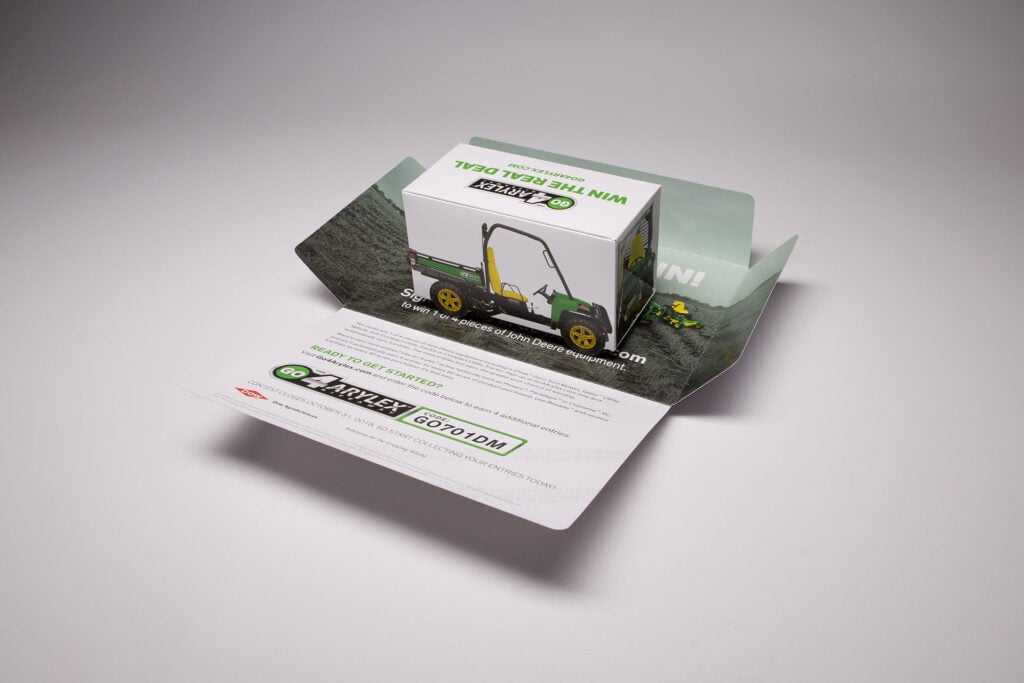 Conclusion
For most, the holidays are a magical and exciting time of year. We predict the 2021 holiday season will be a busy one with brands anxious to get back to normalcy. Now is a good time to think through that special promotion or new product announcement. Direct mail has pulled in considerably higher open rates and response rates than digital and with digital overload, reconnecting in a personal way is something we are all craving after such a tumultuous year.
advertising, christmas 2021, christmas cards, direct mail, holiday 2021, holiday marketing 2021, print, qr codes