Remember when we all thought QR Codes were a fad and would soon be a thing of the past? How things have changed. They are everywhere! Direct mail, walls, signs, flyers, packaging and more. A recent survey by Statista found that 32% of respondents had scanned a QR code in one week! The same survey found that an estimated 11 Million households were forecast to have scanned a QR Code in 2020. This would have meant an increase from an estimated 9.76 Million scans in 2018, and that was pre-pandemic.
The pandemic has only increased their relevancy and popularity with most consumers seeking contactless options. Most restaurants did away with paper menus during the pandemic asking customers to scan a QR code to see the menu. QR Codes offer consumers a way to click and explore, to navigate from print to digital with a simple click. Most smartphones no longer require an app to interact with a QR code.
QR codes offer brands the opportunity to take consumers from a printed advertising piece to exactly where they want them to go online. Whether it's a page specific to an event, a special offer, or an online form, QR codes offer consumers a much easier way to get online.
How some brands are getting creative with QR Codes
Brands are getting more sophisticated and creative with how they integrate QR codes into their marketing because they've recognized their effectiveness. Dimensional mail has proven to be more effective than traditional direct mail and brands have taken it a step further by combining creative direct mail design with a QR code.
Take this example for BMW. The inside of this self-mailer featured a letter to customers which was personalized with the recipient's first name and a QR code they could scan to book an appointment.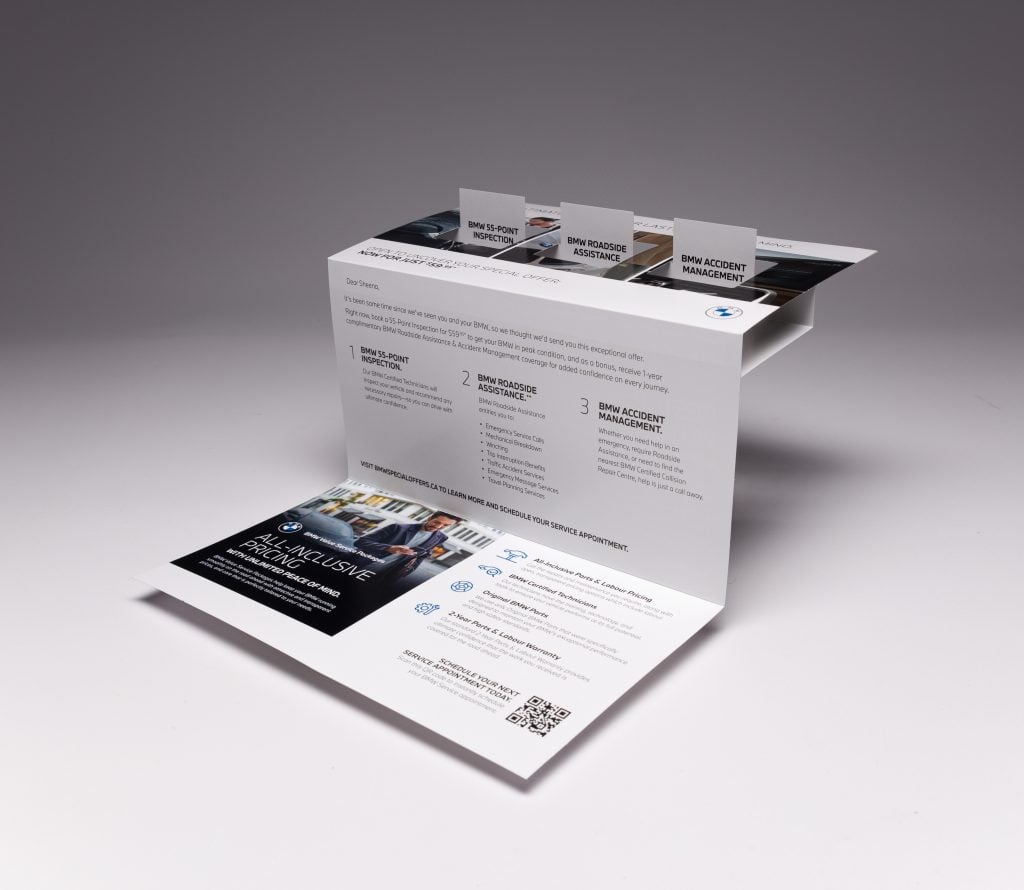 Canada Post used this sales kit brochure to deliver the features and benefits of direct mail marketing and to encourage recipients to participate in a special contest. The inside of the unique square-shaped brochure featured different tabs of information that pull out and lock with each tab communicating a different phase of the communication lifecycle. The middle of the brochure also featured a well with a web key that could be easily pulled out with a lift tab. The call to action was to insert the web key, scan the QR code or mail in the attached BRC to register for a free webinar and the opportunity to win a trip to the CMA Direct Marketing Conference.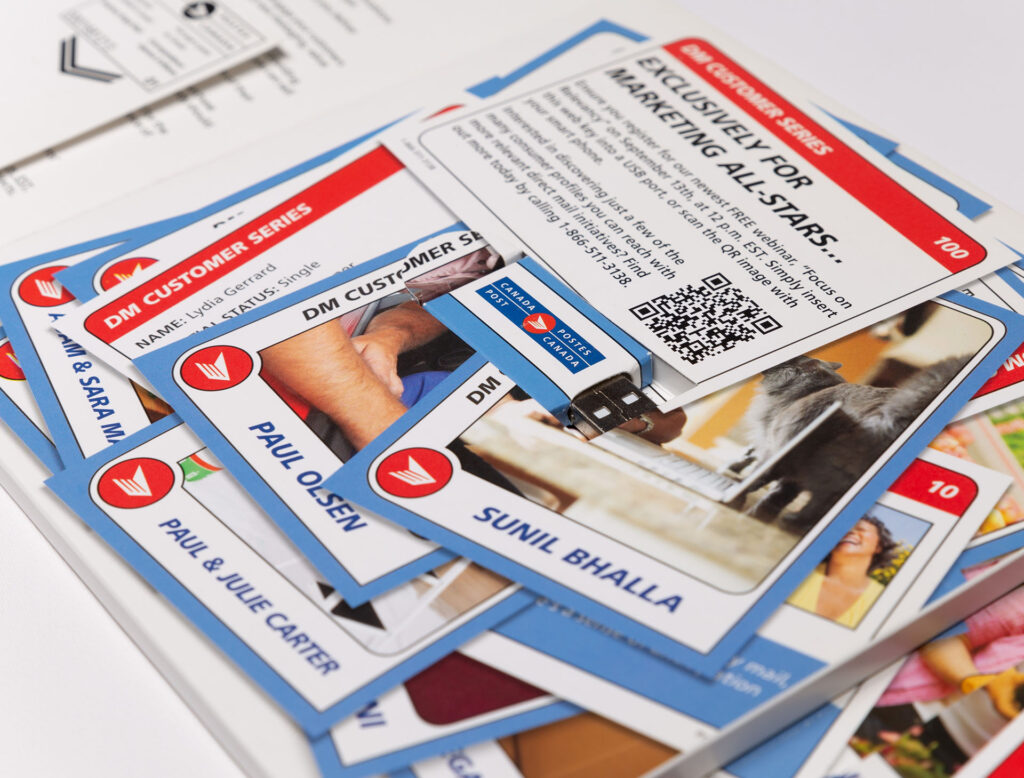 Our US Partners Structural Graphics designed this unique holiday card for Iggesund Paperboard. Every year Iggesund Paperboard selects a paper artist from around the world to design their annual holiday greeting card. It's become a tradition for Iggesund to challenge designers to surpass the previous year's holiday card, by highlighting the print possibilities available through Iggesund's paperboards Invercote and Incada. In 2019, they chose Structural Graphics to create a unique design that utilized different printing techniques, including fine laser cut details. The design also needed to reflect Iggesund's theme "Shine a light on the forest". The theme is specific to the origin of Iggesund's flagship product, Invercote, as well as the important role that sustainable forestry and fibre-based products can play in mitigating climate change. Structural Graphics' design team created this year's design; a magical winter forest scene that comes to life in a dimensional shadowbox which shines a light on greater forest sustainability. They had the idea to illuminate the shadowbox from below. This was achieved by developing a light display which appears on one's mobile device, once the QR code on the bottom of the holiday card is scanned. The light show that displays within the shadow box mimics the magical illumination of the aurora borealis. See it here:
Conclusion
Tracking the effectiveness of a direct mail campaign can be challenging but with the inclusion of QR codes, brands are now able to track the effectiveness of their offline marketing campaigns. Direct mail has been proven to be retained longer, especially when it's creative and unique. Here are some powerful direct mail stats we found online:
42.2% of direct mail recipients either read or scan the mail they get.
Direct mail requires 21% less cognitive effort to process than email.
Direct mail recipients purchase 28% more items and spend 28% more money than people who don't get that same piece of direct mail.
Direct mail offers a 29% return on investment.
QR Codes are here to stay and so is direct mail. Combine the 2 and you have a powerful marketing duo.
advertising, direct mail, print, qr codes