On-demand marketing has become increasingly popular. Consumers are more in control of what they want to see and how they want to see it. Take Netflix, as an example, and the popularity of "binge-watching" a show because you can watch what you want, when you want, all while avoiding commercials. Mobile devices also allow consumers to control what they want to see and to swipe and disregard content if it's irrelevant or not engaging enough. How does direct mail play into this?
Although digital marketing has become increasingly popular over the last decade, the pendulum has swung and consumers are craving an emotional connection now more than ever. With people spending more time at home, there is more of a captive audience than there's been in a while. According to this article in Modern Retail, more brands are turning to direct mail as a way to diversify from other advertising channels.
By making it interesting and creative, it is also more likely to be shared with others and retained for future reference. Here are 3 ways to make your next direct mail campaign memorable and retainable while connecting with your audience.
1. Add a Dimensional Element
Just like the pop-up books of our childhood years, adding a pop-up to a direct mail piece is a great way to surprise and engage your audience. Because of the element of surprise, your audience will also be likely to share it with others. Take a look at this example for John Deere.
High-impact direct mail is also an effective way to drive your audience to your social media channels. Healthy Choice used this direct mail piece to deliver 2 coupons and to drive recipients to their Facebook campaign. It generated 136,000 Facebook Likes and 34% of the coupons were redeemed, compared to the average coupon redemption of 19%.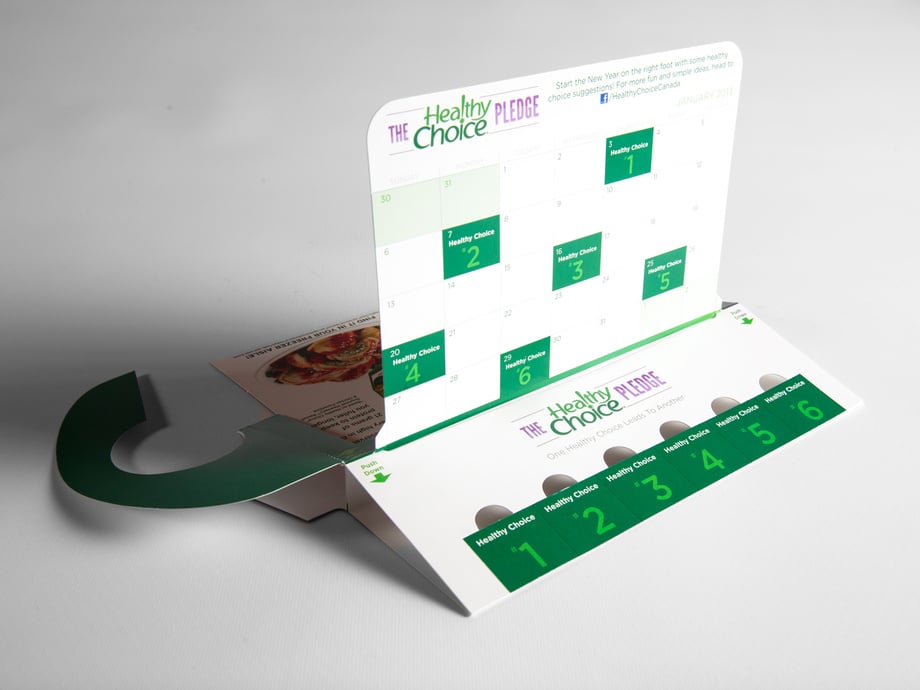 2. Add Video
That's right! Video is one of today's most popular marketing channels. Video offers brands the ability to connect with their audience in a way that words simply cannot. Integrate it into your direct mail campaign and you've got a marketing powerhouse.
Video in print has become increasingly popular. The pharmaceutical industry and automotive industry especially have reaped the rewards of video in print marketing. Take this award-winning Lincoln Continental video mailer and this video mailer for Dayton Children's Hospital, both designed by our US strategic partners Structural Graphics. The Dayton Children's video mailer was sent to 280 physicians to invite them to tour the new facility. The video mailer was seen by approximately 700 physicians, and since the mailer, referrals by physicians to the new facility has increased by 80%. Read the case study here.
3. Add a QR Code
QR Codes have progressively become more popular during the pandemic, especially at restaurants because they offer guests a contactless way of viewing a menu, but did you know that they are also highly effective at driving your audience to your website or a specific landing page? BMW used this direct mail piece to invite customers to book their next service appointment and to take advantage of a special offer. The direct mail piece was personalized and interactive with a QR code on the inside that recipients could scan to schedule their personal appointment.
Conclusion
Direct mail is a powerful way to connect with your audience at home and according to this article, it has a median ROI of 29% compared to 23% on paid search. The inclusion of technologies like video, augmented reality, QR codes and web keys have made direct mail more versatile than ever. If you're looking to communicate with a captive audience, now is the time.
by Susie Mehring
direct mail, direct mail marketing, print advertising, video in print